During the first ten days in Camp trainees had to remain on the Post. After that time, unless on duty, they could go to Mineral Wells or Weatherford after Retreat. They were usually free all day Sunday.
Passes for overnight trips or trips to Fort Worth and Dallas could be obtained upon proper application through their first sergeant but only a limited number of men could go on pass at one time.
In exceptional cases three-day passes could be granted to trainees by their Battalion Commander, but only in cases of actual emergency would furloughs be granted during their stay at Camp Wolters.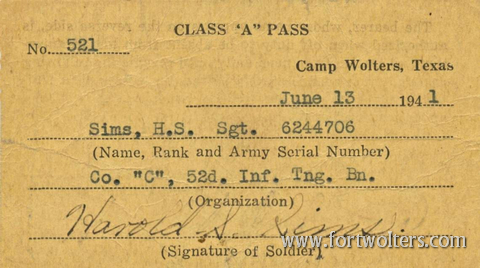 Permanent cadre had a more liberal pass policy and the Class "A" pass shown was issued to Sgt. H.S. Sims by his Company Commander and was could be used whenever he was off duty for up to a distance of 50 miles from Camp Wolters.
The pass policy changed from time to time during the war years. This pass was issued on June 13, 1941.